YOU'VE PROBABLY HEARD A LOT OF PEOPLE MENTION LAYERING, but what does it mean exactly and how do you use it to your advantage? Winter activities require you to be extremely aware of your body temperature. You will use your clothing and layers to regulate your temperature. Too hot and you will sweat, which will cause your layers to be less effective, losing heat once you stop. Too cold and you risk frostbite or hypothermia. While the recipe of layering is tried and true, the ingredients will vary from person to person. Some of us run hotter or colder than average. Some have poor circulation in their hands and feet, or have difficulty keeping their core warm. You will most likely have to experiment a bit to find the right combination to fit you and the areas you climb in, or the type of routes you are doing that day. It's not uncommon for ice and alpine climbers to throw everything into their car, then choose their final layering system at the trailhead once they have a better idea of conditions. Alpine rock, ice, and snow could all require different layering systems depending on how fast or slow you are moving, the distance or strenuousness of the approach, and the difficulty and style of climbing you are doing. Temperature, sun, wind, rain, and snow can all affect your layers, so knowing how to choose can help immensely. A system that keeps you warm and dry can make the difference between fun and misery, and it's just as important to your overall safety as any of your gear.
Below is a rundown of each layer you'll want to think about while outside:
This is where performance really counts, as most of your sweat and heat loss comes from your torso where you have a higher surface area.
Baselayer • Midlayer • Shell • Puffy
Typically, you won't need as much insulation here, as the lower half of your body probably won't get as cold, but this will vary from person to person.
Baselayer • Midlayer • Shell
The foundation of your layering system, your baselayers help move sweat away from your body to the outer layers to dissipate. Baselayers should be form-fitting (think tights) to allow your other layers to lay on top easily. Ideally, look for synthetic, wool, or blends of the two. Cotton should be avoided for winter sports, as it traps the moisture, which will make you cold when you stop moving.
Synthetic baselayers like the
Women's Mountain Stretch™ Hoody
, are super comfortable against your skin, and great at wicking moisture from your body. These can be the lightest options and are great for fast-moving days. Unfortunately, synthetic materials are typically petroleum-based and made from nylon or polyester. Over time, synthetic baselayers can trap odor and get pretty rank.
Most wool baselayers are now made of merino wool, which is much softer and more comfortable than traditional wool. Merino wool layers absorb your sweat more than wicking it away, but still remain breathable and warm. Wool doesn't trap odor the way synthetic materials do, but as a natural, renewable resource, it is typically more expensive. You need to be careful with how you wash wool, as it can shrink.
A combination of merino Wool and synthetic materials, hybrids are often touted as the "best of both worlds."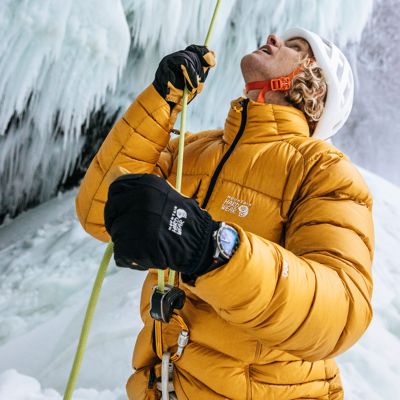 The midlayer will typically be a thicker but highly breathable fleece, synthetic, or wool layer. Like the baselayer, this should be form-fitting. Depending on the temperatures and how hot or cold you or your extremities run, this will vary from person to person. It's much easier to peel off a midlayer from your torso than it is to stop, take off your boots and pants, and shed a layer if your legs overheat on the approach. If you are worried about being too cold without a midlayer for your legs, bring them in your pack and throw them on once you reach the base of your route. Bottoms like the
Women's Mountain Stretch™ Tight
or
Ghost Whisperer Down Pants
can add a lot to your overall warmth. If a baselayer isn't enough, but a midlayer is too much, you can just use your midlayer as your baselayer to add additional warmth for those in-between days. On cold or windy days, a form-fitting hood on the top midlayer to go under your helmet will provide additional warmth. This small addition can make a big difference when the spindrift and wind are raging. The midlayer is often the outer layer for approaches as it's highly breathable, and you are moving quickly.
Your insulation layer could be your final layer or another step in temperature regulation. Insulation layers are often lightweight synthetic or down jackets, or they can be heavier fleece jackets. Once you start climbing, there is a lot of starting and stopping, and your aerobic activity generally won't be as high or consistent as on the approach. This layer can also replace a midlayer if you tend to run warmer or are climbing in warmer climates.
A superlight wind jacket such as the Kor AirShell™ Hoody is a great option for snowy or windy approaches since it doesn't add a lot of bulk or extra warmth, but will keep you drier and less exposed to the driving wind.
Softshell pants or jackets are typically much more durable, breathable, and stretchy than a hard shell and excel in situations where you are continuously moving or climbing mixed rock and ice, where you might need to do a lot of chimneying. They are generally water-resistant rather than waterproof, so aren't the best choice for really wet climates. Softshells can be heavier and more bulky than hard shells.
Hard shell pants or jackets will provide the best protection from the elements. Water, spindrift, snow, wind, and rain are completely blocked by hard shells, and many of the modern materials are more breathable than ever. It might be tempting to leave these behind, but if you are climbing in weather where you can't afford to get wet, a hard shell is your best option.
For any outer layer, look for a hood that will go over the top of your helmet. Chest pockets are helpful to stash food, cell phone, or radio, as your harness or backpack straps will often block the lower pockets near your waist. For sizing, you want the jacket to be able to fit over the top of multiple layers, but still be trim. If it's too tight, it can restrict your movement, but size it too big and it will bunch up and you won't be able to see your gear as easily. Make sure you can raise your arms above your head and not have the waist of the jacket raise up. If the waist raises, as you lift your arms repeatedly, the jacket can work its way out from underneath your harness, covering your gear and exposing your core to the elements. Ideally, the hem would go down past the bottom of your harness at least three to four inches. Cinches at the bottom can help slim down the hem and keep spindrift from blowing up the jacket.
Look for low-bulk cinches for your wrists. These keep snow, water, and ice from entering your sleeves, but if the cinches are bulky, it can limit your wrist flexibility and add extraneous material under your gloves.
For pants, look for options with good venting. Reinforced knees and seat can be helpful for chimneying. To prevent your crampons from snagging your pants, look for a taper at the bottom of the leg.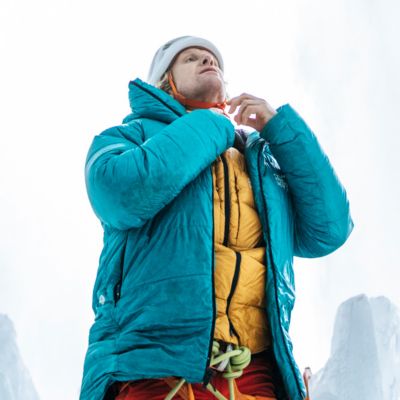 Consider this your "instant warmth" piece. Depending on temperatures and conditions, belay jackets can be down or synthetic. The fit should allow you to throw it on over all your other existing layers and have a hood that goes on top of your helmet.
Down will compress better
in your pack, but unless it has hydro-down or a durable waterproof shell, it can lose its warmth quickly.
Synthetic insulation
will still keep you warm, even if it's wet. The area you are climbing in can be a deciding factor on your choice of insulation. If you are climbing in an extremely humid area that typically has heavy, wet snowstorms, synthetic would be a better choice than down. If you are climbing in drier climates with low-moisture snow—you know, the kind of powder that wants to swallow you whole and requires you to wear a snorkel when skiing—then go for down. For extremely cold days, belay pants with full side zips, like the Compressor™ Pant, or a belay skirt can help in keeping warm, but they create extra bulk.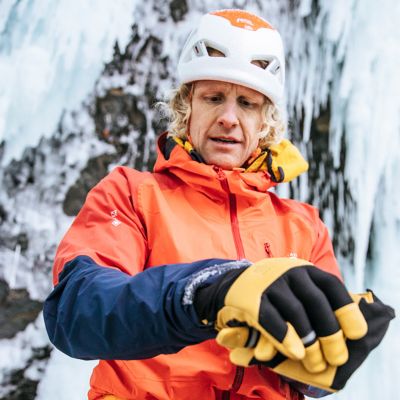 A crucial part of your cold-weather system, your hands and feet can be the first to succumb to frostbite and are not a place to skimp on. Your gloves often have the most contact with snow and water, so a well-built, durable glove is critical. One feature that will help you tell a glove designed for climbing vs. skiing or general use is the addition of the carabiner loop on one of the fingers so you can hang them from your harness by the finger. Hanging them in this way keeps snow and water from entering the glove. For ice climbing, you will typically use three to four types of gloves in a single day. On a wet or warm day, you can go through even more pairs.
Tim Emmett, a Mountain Hardwear ice climbing athlete with ascents of some of the hardest ice and mixed routes in the world says, "As a general rule, I usually have four pairs of gloves. One thin pair without a (waterproof) membrane for walking in. One or two thin pairs for lead climbing (non-waterproof for mixed or waterproof for ice). A warmer waterproof glove for seconding or belaying, especially if your hands get cold. If it's 0ºF or less, it may be a smart move to take something really warm like a pair of Unisex Absolute Zero™ Gore-Tex® Down Mitt for severe conditions. This system might seem like overkill but being able to wear dry gloves will have a big impact on your day and whether you complete your mission or not. A waterproof glove that is wet on the outside and dry on the inside will keep your hands dry, but your hands will lose more heat than if they were in a totally dry pair. Your hands are a crucial component for every form of climbing, so look after them.
The approach and hike out will generally be continuous aerobic activity that will keep you warm and sweaty. A pair of form-fitting fleece gloves with a grippy palm and fingers are an excellent option for the approach as they are breathable yet warm. Gloves like the
Unisex WindLab™ Gore-Tex Infinium Stretch Glove
, or
Unisex Route Setter™ Alpine Work Glove
are great options. Often, your approach gloves will be wet inside from sweating by the time you reach the base of your route. Wet gloves are not something you want to wear while climbing, so throw the approach gloves into your pack and pull out a fresh pair of climbing gloves.
High-Performance Climbing Gloves
These are thin gloves you'll wear during the crux pitches for maximum dexterity. Grippy leather gloves with low bulk are a great option. Fiddling in gear, placing screws, or using your hands to grab holds can all benefit from extra dexterity, but thin gloves aren't always warm enough or durable enough for a full route. For mixed, a non-waterproof option like the
Unisex Route Setter™ Alpine Work Glove
will work well. For ice, look for waterproof and a longer gauntlet (the part of the glove going onto your wrist to ensure your skin stays covered.) Carry a thinner pair of gloves stashed inside your jacket to wear for pitches you know will be cruxy or look like they would benefit from an extra boost of dexterity. Switch them back out when you determine you don't need them and put them back into your jacket to dry out.
Workhorse Climbing gloves
These are the ones you'll wear most of the time when on route. They should be dexterous but still, offer warmth and protection from water. A leather palm and fingers with reinforced stitching will help with durability. A gauntlet that can go over the top of your jacket sleeves will keep snow and water from entering your jacket when your hands are on your tools and raised above your head. Gore-Tex® or other waterproof materials are helpful as you will encounter pitches with really wet conditions. The
Unisex Exposure™ Light Gore-Tex® Glove
is one of Emmett's favorites.
Just like your belay jacket, these are "instant warmth" for your hands. Once you reach the belay, switch out to your belay gloves. Stash your climbing gloves inside your jacket to keep them warm and to help dry them out. The of Unisex Exposure/2™ Gore-Tex® Glove is a good option here. Depending on the conditions, temperature, and your own needs, these can be gloves or in really cold conditions, mittens like the Unisex Absolute Zero™ Gore-Tex® Down Mitt. You will be belaying and rappelling in these gloves, so a durable leather palm and reinforced stitching will help the durability. Once the leather is wet, the friction of the rope can do more damage and wear. Thinner gloves tend to fall apart quickly under these conditions, but a well-built belay glove will last much longer. There are typically two options people like to use for storing belay gloves. One is off your harness by the carabiner loop on the finger for quick and easy access on the route. This can be helpful on extremely cold days when you realize mid-route that the climbing gloves you have are just not warm enough or are already soaked from an extremely wet pitch. You can switch out mid-route if necessary.
The other option is to store them in your belay jacket like Emmett. He says, "Keep your next pair of gloves close to your skin or tucked into your midlayer chest/stomach area so that they are nice and warm when you put them on." This method will keep the gloves out of the elements but can be less accessible. One additional benefit of having them inside your jacket is that you can have hand warmers stashed inside the gloves to keep them extra warm. For the gloves in your pack, try to keep them easily accessible. The lid you your pack is a good place to store extra gloves as it makes them easily accessible and you don't have to dig around in your pack to find them on route.
These aren't the typical socks your grandma gave you for holidays or birthdays. Socks for cold weather climbing are as technical as the rest of your clothing systems. Depending on the conditions, the fit of your boots, and how cold/hot you run, you might want two pairs of socks. A liner sock, or super-thin pair of wicking socks, can help transfer moisture away from your feet and help to prevent blisters. For your primary sock, there are lots of material and thickness options. Again, stay away from cotton, and look for synthetic or merino wool. Socks with variable thickness mapped out for your feet can make a huge difference in making them more comfortable and better-fitting, meaning less likely to bunch up. Just like your hands, your feet are most at risk for frostbite, so don't skimp.
For the approach, any beanie or headband will work, but once you put on your helmet, the shape of the hat is essential. You want a low-profile, no-bulk hat that is form-fitting without extra space to get in the way of the helmet. Pom-poms may look cool, but they will be uncomfortable under your helmet. A stretch fleece with a cut to cover your ears can be ideal, such as the
Unisex Dome Perignon™ Pro
or the
Unisex Power Stretch® Beanie
. On extremely cold days, a balaclava can add additional warmth by covering more of your face. A Buff is a simple and versatile addition to keep your neck, chin, or head warm, and it can be configured in many different ways.