Two climbers looking up at a big rock face
Hiring a guide is akin to hiring any other trade professional. You go to a mechanic to fix your car, you go to a dentist to fill your cavities, so why not hire a guide to help you climb the mountains that you dream about. Just like hiring a mechanic, you want someone who is reliable, well trained, and gets the job done right.
What is the purpose of hiring a guide? What is their job?
What training/certifications do climbing guides need to be a working professional?
Why is it important to thoughtfully consider guides before heading out on a climbing trip? (safety, comfort, personal needs, gender…)
If you were on the opposing end (which, perhaps there's a story there?) which factors would play into your decision-making process?
How do you do your research?
What questions should you be asking of a guiding service (if they aren't providing the answers for you)?
Are there any red flags to be aware of?
Can a client be more flexible in their decision if they have more climbing experience/skills?
How does budget factor in?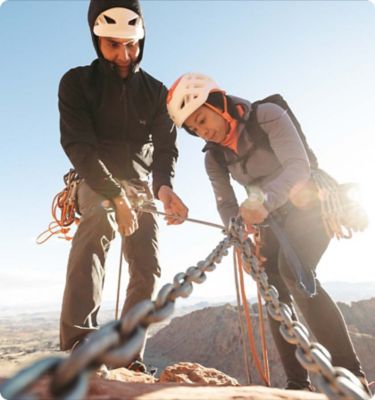 What is the purpose of a mountain guide?
The craft of mountain guiding has a rich history both in the U.S., and abroad, that continues to develop today. The role of a mountain guide is many. Today's round of mountain guides are trained to be both professional in their knot-tying as well their guest services. Guides can provide an intimate knowledge of a mountain range, such as route finding, where to get water, best time of year to climb and more. They can help plan logistics surrounding the climb or ski and often have a network of friends in and out of the world of mountains to make your trip a full value experience.

So, whether you're looking for someone to get the rope to the top of the climb, or find the secret powder stash, learn new skills or you are traveling to a new place and want some local knowledge, hiring a qualified guide can make your mountain experience all the more memorable.
How do I find a savvy mountain mentor?
The American Mountain Guides Association (AMGA) makes finding a guide streamlined. You can go to the AMGA website, where they have a link to hire a guide. You can select what kind of guide you're looking for (rock, alpine, or ski) and it will populate a list of all of the certified guides in your desired discipline. This resource gives you an opportunity to read the guide's bio and reach out if you feel like they might be the guide you're looking for.

While there are not often Yelp reviews for individual guides, you can certainly look at reviews for a guide service. Specifically, you will want to hire a guide from a service that is "accredited" because this means they will staff your trip with a guide who has the applicable level of training for the objective you're trying to reach. Calling the guide service and telling them about who you are, your general goals and demeanor might help them staff a guide that you will jive with.

Another easy way to start is by asking a friend. If your buddy had a good time with a certain guide, there is a good chance you will too. You should ask how their guide communicated before, during, and after the climb or ski. Does your friend think you would get along with this guide? Oftentimes, people overlook the fact that they are going to spend hours upon hours or even days with a guide. Most every guide is going to have the climbing ability to get you up your route, but ultimately, you may want to be with someone who respects you and your needs and potentially makes you laugh.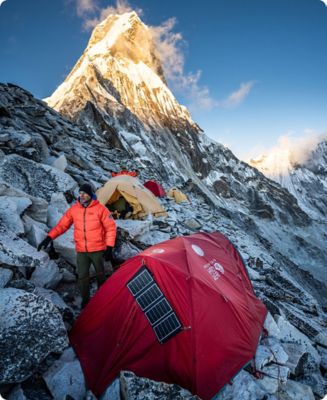 How can I trust that my mountain guide is credible?
These days, guides are required (if they work for an accredited business) to go through stages of training through the AMGA. The AMGA trains guides in three disciplines: rock climbing, alpine climbing, and backcountry skiing. At each stage of training, the guide is taught how to manage terrain to achieve maximum safety and efficiency, which adds up to a better guest experience. Along the way of the pursuit of full certification, aspiring guides will continue to train, work, and spend personal time in the mountains.

When a guide has passed an exam in all three disciplines, they are awarded a certificate that deems them a Certified Mountain Guide. This certification is recognized both domestically and internationally through the International Federation of Mountain Guide Association (IFMGA). To move through and pass through all of the stages of training and exam takes most guides five to ten years to complete and is considered the PhD of mountain training.

As of 2021, there are roughly 150 fully certified American guides, 14 of whom are women. There are hundreds of guides who are in the process of achieving their full certificate that have experience and training to climb and ski all of the states.
What questions should my guide or guiding service help answer before a trip?
Unlike going on a blind date, you can ask your guide and the guide service plenty of questions leading up to your trip. This can help you get the gear you need, calm anxieties and sort out the necessary logistics so that no one is left scrambling at the last minute. Setting up good communication early on is a great way to start off a trip!
What kind of prior experience do they require you to have for your particular trip?
What gear do they provide?
What gear are you responsible for bringing on the trip?
How many people will be on your trip?
How many people can you bring with you?
What flexibility with timing and itinerary exists?
Is there a refund policy?
How much should I tip my guide?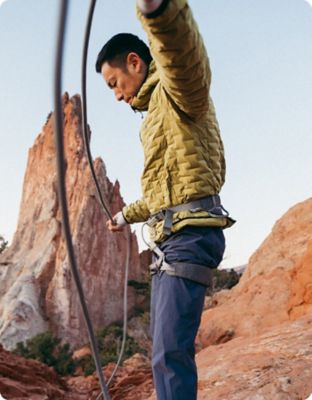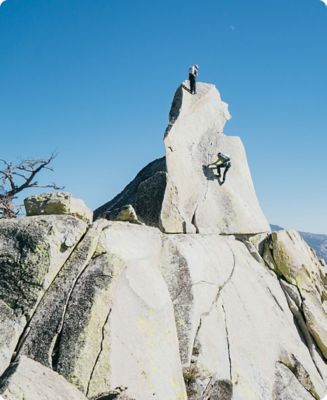 What are some red flags to be aware of before hiring a guide?
When you hire an AMGA-trained guide, you can expect someone who is professional, experienced, brings sound risk management and decision making and gives you the personal attention you need to succeed. This is not always true for every person or business that claims to be a professional guide… Make sure to watch out for:
Guides and services that don't have requirements for guide training (i.e. non-accredited businesses)
Poor communication prior to and during your trip
If you've got big mountain dreams, it can feel daunting to take that first step. But with the information above, you now have a strategy for finding the guide that's right for you and your group, who will make your next adventure a fun and safe experience from start to finish.