LGBTQIA2S+ Single Pitch Instructor Course
pitched into presence
How do you land your dream job, when you can't get to the interview? Sometimes you have to create your own space instead of asking for a position in theirs...
In partnership with the American Mountain Guides Association, we offer six all-expense-paid scholarships to our bi-annual LGBTQIA2S+ Single Pitch Instructor Course. Keep scrolling to see and hear from those who have completed this course, and if you'd like to apply to participate in the next continuation, visit the link below.
It's no secret that climbing,
as a sport, is homogeneous...
Surveys from the American Alpine Club's State of Climbing Report and Outdoor Industry Association confirm what can be observed at most gyms and crags around the country: the climbing community is predominantly white men. For folks who fall outside of these demographics—women, queer people, trans people, people of color, or people with any combination of these identities—it can be difficult to access climbing instruction and mentorship.

These difficulties arise from negative experiences in climbing and outdoor recreation that make people feel unwelcome—and unsafe—because of their gender, race, sexual orientation, or other identities. Being scrutinized intensely on a belay test compared to a white male partner, having climbing partners repeatedly use the wrong pronouns, being asked, "did you toprope that pitch?" after leading it, driving past a confederate flag on the way to the crag: These are just a few experiences that women, queer people, and people of color have reported. These experiences result in fear, anger, alienation, and self-doubt that makes it hard to participate in climbing or learn new skills, and even harder to stick around and be a mentor for other people with similar identities.

Across identities, safe and dedicated learning environments are essential for learning and developing the skills associated with mountain guiding. In creating these environments, the American Mountain Guides Association (AMGA) considers diversity and inclusion to be a risk management issue. Physical and emotional risks are inherent to climbing and skiing. Mountain guides are trained to evaluate and manage the physical risk and safety of terrain, weather, and technical systems. However, the emotional risk is a bit more complex. Some emotional risk is part of the appeal of climbing–we push past fear and discomfort to finish a climb and experience the joy that accompanies a send. But, emotional safety should be prioritized when it relates to participants' social interactions within a group and to how their personal history and identity shape the way they participate in a learning space. When educational spaces are designed without the emotional needs of underrepresented identity groups in mind, they often alienate and hurt the students they're trying to serve.

Affinity courses bridge this gap to create an intentional and dedicated learning space for underrepresented groups. Instructors for these courses hold underrepresented identities in outdoor rec, as well as demonstrated commitments to diversity and inclusion. And, the benefits are clear…
Lila Leatherman (they/them)
Lamella Consulting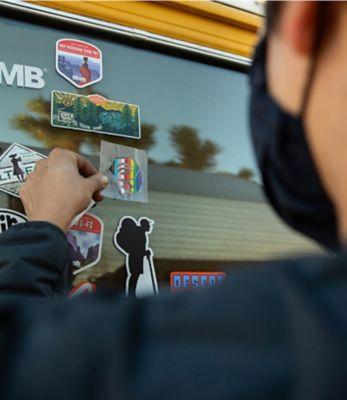 The AMGA ran our first affinity program in November of 2018 and we have continued to create spaces throughout that time to serve our historically underrepresented members.
With an average of four affinity programs a year, in both climbing instructor and mountain guide programs, we have made a longer-term commitment to these initiatives.

However, affinity programs are a small piece of our larger vision for an inclusive guide association and community. We know that affinity spaces cannot solely change our organizational culture. As the leaders in our industry, we strive to center Diversity, Equity, and Inclusion work at the foundation of our organization by looking at external and internal work that we need to do.
Monserrat "Monse" Alvarez (she/her)
Membership & Inclusion Coordinator, AMGA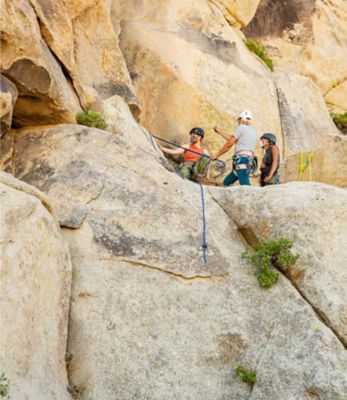 Over the years and the repeated attempts to find myself by defining myself to others, I also learned that the climbing world was tolerant, if not particularly excited to see and welcome the fullness of my trans and non-binary identities. I was lucky; many others have found their welcomes to be far less warm…

When guiding, especially, I always find myself weighing the potential risks of opening up against the discomfort of not sharing my authentic self. While I have found many strong allies and friends among clients, co-workers, mentors, and colleagues, this course was the first time in over 15 years of guiding that I have felt fully able to be out, to be seen, and to celebrate the trans part of my identity while working. Being able to play a role in creating that space for others queer and trans climbers just starting their guiding careers was one of the most rewarding professional experiences of my career. I can't wait to see how this team of instructors will make their mark and welcome an entire new generation of climbers to the sport and industry.
Sean Taft-Morales (they/them)
AMGA Rock Instructor & SPI Provider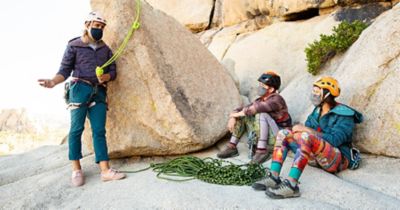 I've been climbing for over 21 years, and in that time, I've undergone numerous journeys of self-discovery and come out to my friends, family, and my various communities countless times, in different ways, to different reactions, as my knowledge of self has evolved and grown.