adjusting mindsets to suit different riding environments
Written by Chris Brown, professional ski guide & single pitch instructor.
ON A DAILY BASIS, HUMANS ADJUST THEIR MINDSET with or without knowing the implications. For example, we adopt different approaches for walking versus riding a bike versus driving a car: this is mindset. Being aware of this process and using it to your benefit is an active way to help manage risk and should become part of a daily routine.

Managing personal and group risk while skiing and riding require unique mindsets to match the environment, and it is necessary to be aware of how and why your mindset needs to be adjusted in different settings. Riding in ski resorts is different than riding in the "sidecountry," which is also unique compared to riding in more remote backcountry. An adaptable mindset is one tool for managing the hazards and risks involved in ski areas, sidecountry, and backcountry. With the help of Chris Brown of The Mountain Guides, this article will explain what to consider when framing your mindset through the margins of each zone.

Simplistically, margins are the buffer or tolerance for error. They are used to frame a mindset, and a mindset is used to establish appropriate margins. Consider walking on the sidewalk versus on the street: there is a larger margin on the sidewalk than on the street. Likewise, riding in a designated bike lane has more margin than in traffic... Margin affects the mindset in the moment, and the mindset will affect the margins during the planning.
Resort riding may not appear risky compared to backcountry skiing, but it has its hazards. Lots of downhill skiing time increases the probability of having an accident while skiing, and ski lifts can be dangerous if not used correctly. Ski areas are also typically very busy with people of varying skill levels—the implication: injuries due to collisions.

But, ski areas have codes of conduct implied when purchasing a lift pass. There are maps, signage, rope lines, cut and groomed trails, gladed runs, and maintained ski runs. There are emergency clinics available for injuries and lodges to rest in and get food and water. Terrain is opened and closed based on hazards deemed risky by professionals, who help mitigate avalanche hazard. There are also mountain hosts and patrollers to offer direction, assistance, or quick medical attention. All these factors and more lead to a predictable day once acquainted with the area, therefore, these elements establish an amount of safety—or margin—to the hostile winter mountain environment. Because of this margin, the mindset can be a little more relaxed regarding self-sufficiency, awareness of the avalanche hazard, and the need to navigate complexities.

Areas of concern may be rider-rider accidents. Knowing the code of conduct, properly using ski lifts, and using protective equipment are essential factors to minimizing this concern. Considering the mentioned points, reading the back of a lift ticket, and looking at trail maps will all help frame a resort mindset.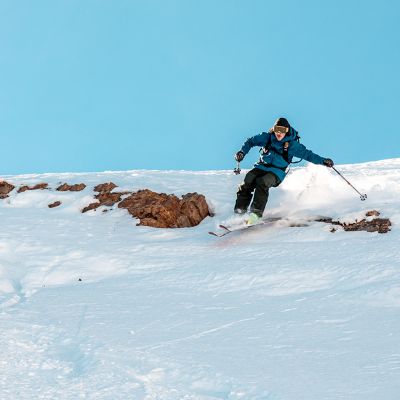 Sidecountry (i.e. Resort-Accessed Backcountry)
(A quick note in regards to the term sidecountry: the idea that sidecountry is different or safer than backcountry is usually inaccurate and can breed complacency. Using sidecountry can also lead to a conflicting mindset. The term sidecountry is discouraged and should be acknowledged for what it is: (resort-accessed) backcountry. The term sidecountry may be used here but only as a substitute for lift-served or backcountry adjacent to a ski resort.)

Just like the backcountry, this environment isn't controlled, closed, or roped off for hazards, and it doesn't have professionals mitigating the avalanche hazard. Although ski area personnel may respond to an accident or injury, they aren't obligated. In the event of an avalanche accident or injury, reliance on yourself and your party to manage is the SOP (standard operating procedure).

There isn't a code of conduct that you legally must adhere to when entering the sidecountry. The snow conditions are variable, unmaintained, and unmanicured. There isn't an option to download the lift if the terrain is too tricky. Signs and warnings are non-existent. There's reduced or no access to lodges, food, water, and rest areas that ski areas provide. These implications should lead to a more cautious and calculated mindset with increased margins than that of the ski area. Sidecountry may be busy due to proximity to a ski area. Increased activity can lead to travel protocols not being followed between parties increasing exposure and risk. In contrast to remote backcountry, sidecountry terrain is often accessed by lift, a short uphill, or a traverse instead of substantial time and energy spent on ascending. Easy access limits the amount of terrain previewing, and snowpack and weather observations made that afford more information. Eliminating the uphill, however, will also increase time spent riding downhill, potentially in avalanche terrain.

The sidecountry can combine the "human factor" trickery and heuristic traps of both the resort and the backcountry. Due to overlapping factors, your mindset should combine the vigilance needed to deal with other people/parties in the ski area with implications of remoteness and wildness that the backcountry provides.

The crossover of environments compounds the hazards and risk of the ski area and the backcountry to necessitate a cautious mindset and margin to manage, possibly more than remote backcountry.
When encountering more remote backcountry, you leave behind much of the help and hindrance provided by ski areas. Enter the freedom of the hills! While you may be less concerned with other groups affecting your day, this is the time to become fully self-reliant; food, water, medical, route finding, stability analysis, and much more.

Again, you won't have the benefits of lodges, medical professionals, avalanche and terrain mitigation and management, but some hazard management benefits arise. More time on the uphill means less time riding in potential avalanche terrain, reducing exposure, more time for snow and weather observations, contemplation and introspection. Some human factors associated with ski resorts and nearby terrain may go away. The remote backcountry should lead to a more evident self-reliance and cautious mindset with very appropriate margins to accommodate the backcountry's remoteness and aloneness.