How Tim Emmett Trains for the Alpine
WHEN THE LEAVES FALL AND THE COLD AIR OF WINTER BLOWS IN,you might feel that familiar itch to strap a bunch of sharp pointy things on your body and do battle with frozen water. Maybe you climbed dry rock in the good temps, or maybe you got high in the mountains, but now it's time for ice climbing season. Whatever physical activity you do in the summer and fall will be a good base, but ice-specific training is essential for anyone who spends more than a few days swinging and kicking in the winter. And the earlier you get started with pre-season training, the more fit you'll be when that life-list route actually comes in.
When it comes to ice climbing—or training for ice climbing—there are few that can match Mountain Hardwear athlete Tim Emmett. Year after year, Emmett establishes some of the most difficult dry-tooling and ice climbing routes in the world, including the recent first ascent of Mission to Mars, a 40-meter WI13 at Helmcken Falls in Canada. To ascend this route, currently the world's hardest ice route, Emmett's training had to also be the world's hardest ice climbing training. But don't worry, the exercises are adaptable to any skill or strength level, and as you get stronger, there are plenty of options to up the intensity. Here Emmett shares his pre-season training routine, as well as his go-to tips to push yourself on the ice.
Watch Emmett climb Mission to Mars: The World's Hardest Ice Climb
Emmett's ice climbing training focuses on cardio, grip strength specific to ice tools, and full-body strength, specifically core. Below are some suggested exercises and workout format, but anything that targets these three categories will work for ice climbing training. Consider starting a 6- or 8-week cycle in the fall, doing an ice workout two to three times a week, along with any other physical activity you enjoy: rock climbing, cycling, weightlifting. Overall Emmett always trains very specifically for a goal in the mountains, where he simulates the strength, power-endurance, or fitness his objective will require. Not only will it help you tailor your training, it will also help you stay motivated.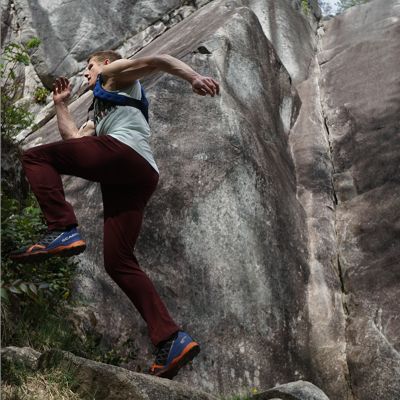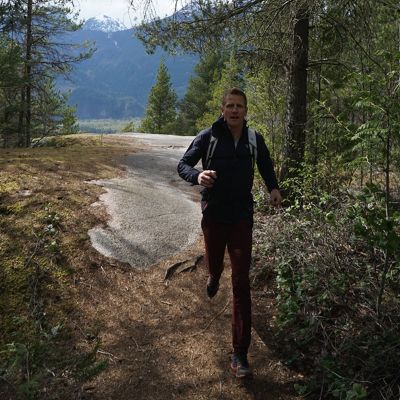 This is always useful for conditioning the legs so you can get the most out of your climbing day, but you can't necessarily just jog a few times a week and expect great results. Instead, mix it up with long, slow runs and speed work or hill sprints.
Here's a week of Emmett's running training
1 day of steep hill training with weight. Depending on your current fitness level (start with 5lbs. and go from there; Emmett wears 20-40 lbs.), don a weight vest, sprint up a short hill, then walk back down. Rest 2 to 3 minutes and repeat. Do this for 30 to 60 minutes total.
1 day of speed hill training without weight. For 10 seconds, he runs uphill at maximum effort. He rests 2 to 3 minutes then runs up again a max effort, repeating this cycle 10 times total.
2 days of 30- to 60-minute low-intensity runs that are slow enough to provide recovery from the speed days.
Emmett has a couple ways to train the very specific grip strength needed to hang onto his tools on a near-horizontal cave for more than 40 meters. Circuits and Max hangs are his preferred exercises.
Pull-ups on gymnastic rings or ice tools
Alternating leg front levers on ice tools
Windshield wipers (British-born Emmett calls them "windscreen wipers") with straight or bent legs, add ankle weights to get the maximum effect
Calf raises. You can do these on your steps. Start with 20 raises on each calf, with a 2min rest in between. Do 3-5 sets 3 times a week. You can slowly add more steps in, then start adding weight.
Box steps. Use a stable box, shelf, steps, bench, or chair that is somewhere around 16 to 18 inches tall. Load your backpack with about 25 lbs., and do 50 step-ups, alternating legs, then rest 3 to 5 minutes. Place your foot squarely on the center (not on the edge), and make sure to step all the way up so the stepping leg is straight. Do 3 sets twice a week.