done in a day: planning for fast and light alpine missions
IT MIGHT SEEM COUNTERINTUITIVE, but sometimes "done in a day" plans for remote alpine climbs can be easier or more efficient than multi-day excursions. Leaving tents, sleeping bags, stoves, fuel, and heavy foods behind can lighten your load immensely. Done-in-a-day can also allow you to maximize your weekends, saving valuable vacation time for even bigger trips. In some areas where it's difficult to get backcountry camping permits, it might be the only way to climb your intended route on a timeline that works for you. It might feel intimidating to think about double-digit mileage and a long climb on the same day, all in the bitter cold and freezing wind, but it can be an efficient way to summit the route you've been eyeing for years.
Done-in-a-day routes require planning, efficiency, and fitness. Here are a few tips to make your goal achievable.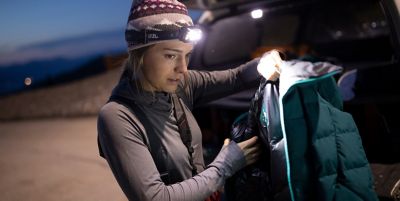 You already carry a lot when out for a day on the ice. If conditions allow and you have access to open, running water, bring a filtering system to get water on the go. Simple no-pump systems like the
Katadyn BeFree
›,
SteriPEN
›, and
LifeStraw
› systems keep your weight down while still staying hydrated. For an extra boost of warmth throughout the day, bring a Thermos with hot liquid. Coffee, tea, vegetable or meat broth, or supplements like Nuun or BCAAs can help with an extra kick of energy.
Know your approach. Often long alpine approaches start at lower elevations and might not involve snow until close to the end. If there is little to no snow on the approach, you might be better off putting your ice boots in your pack and hiking in with trail runners. Your feet will be more comfortable, you have less weight on your feet, and your boots will be dry when you need them the most. Combine trail runners (standard or Gore-Tex) with a pair of low gaiters and Yaktrax or Kahtoola Microspikes to get as close to the climb as possible before switching to heavier boots.
Depending on the length of your objective, there are a couple of food guidelines to keep in mind. If you are working hard, which is pretty much all the time while alpine climbing, you should try to consume a minimum of 100 calories per hour to keep your energy levels up. For sustained days that might extend beyond 24 hours, 3,000 calories per day is a good minimum target to maintain.
When it comes to food selection, keep in mind how the below-freezing temps will affect your food. Choose foods that won't easily freeze, or keep those that might freeze close to your core. Many prefer foods with high fat and protein content. Salami, pre-mixed flavored tuna packets, smoked salmon, bacon, cheese, nuts, gels, Gu packets ›, and bars can all work well in an alpine environment. In addition to high-calorie foods, bring something just for you, a snack that you will want to eat regardless of how you feel. Gummy bears, Belgian waffles, chocolate, candy bars, potato chips, etc. Over time, trail bars and processed foods will lose their appeal. Eat real foods when you can.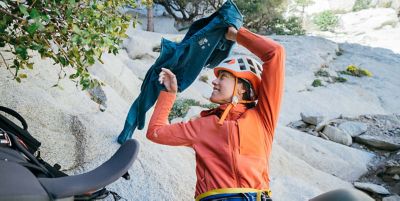 When it comes to packing, communication with your partners can make all the difference. Coordinate the packing to ensure that you have everything you need, and nothing is left behind. Packing together also helps prevent "partner rage" when one of you realizes the other person purposely left behind something you feel is necessary for the route. Go over each part of your kit. Leave behind redundant gear, and decide as a team what to take or leave behind. Use lightweight gear when you can. This might mean giving up on your favorite pieces in favor of your partner's rack, which might save a few pounds. The weight difference might not seem like much, but over the course of a super-long day, each gram adds up. Do all this the night before to be ready in the morning.
For ice objectives, ideally, you want to be on the climb as early as possible. Starting early can lessen the chances of rockfall and avalanches triggered by warming slopes. It can also save time and energy by allowing you to walk on a frozen and firm surface, rather than hiking in slush or post-holing uphill through thigh-deep snow. To arrive on time means an early start, anywhere from 12:00 a.m. to 4:00 a.m. To figure out your starting time, work backward. If you want to be on the route at sunrise, look at the mileage and elevation you have to travel. Keeping track of your approach times throughout the year can help since everyone moves at a different pace. One set of guidelines estimates that a fit hiker can average 3 miles in an hour if the terrain is flat. For steep terrain, use 1,000' an hour as a baseline. Keep in mind that your planning should take into account the slowest member of your team, not the fastest.
Once you start hiking, maintain a consistent pace. Going too fast too soon, can wear you out. Remember, you are pacing yourself to last the entire day. If you can't hold a conversation while hiking, you are probably going too fast.
Make sure the batteries in your headlamp are fully charged or have fresh batteries, and bring an extra set. You might need them for the approach and descent. It could be a long, cold night if you use all your batteries up on the approach.