HUMANS OF HARDWEAR:
ALL DAY EPIC ON MT. SHASTA UNCATEGORIZED
Written by Ashlee Peterson, MHW Marketing PR & Community Coordinator.
Marketing PR & Community Coordinator Ashlee Peterson had climbed, summited, and skied this NorCal 14er before, but in a single day? At first, it seemed insurmountable…
I've climbed, summited, and skied Mount Shasta before, so the idea wasn't entirely new. The first time, we had every detail mapped out by Shasta Mountain Guides, and it stretched over a three-day span. So, besides having to keep up with my fiance's freakishly in-shape friends, one of which happens to be a Shasta Mountain Guide in the summers, there was one major differentiator of this next attempt that made my stomach turn… We were going to do it in a single day.
I was initially hesitant to the proposal if I'm being honest. I could so clearly remember hiking out on day three of that first trip with achy knees and quads on the verge of cramping with each step down; I remembered having to pee in the middle of a snow field in very close proximity to my peers; and I remembered losing my toenails a couple months later from toe bang. But as quickly as those not-so-glam memories came flooding in, the epic summit views, corn skiing, and feeling of shared achievement with my friends immediately pushed those aside and eventually I said, "Alright…let's do this damn thing."
A few weeks later on a Saturday morning, my fiancé, Devon, and I packed the truck with our gear and road trip essentials, including Flaming Hot Cheetos and a good playlist, and made our way to Shasta. The scenic drive is perhaps one of my favorite things on these trips. The mountain itself never ceases to amaze me—what you see, is what you get. No matter what direction you're coming from, you can see its grandness from afar and its energy feeds directly into the mix of excitement and nerves as you get closer.
We met at Bunny Flat, a popular parking lot located near the trailhead, where we would sleep in our trucks that night and start prepping for an early morning departure. I ran through a loose checklist in my head of what to chuck in my pack: snacks, water, ski crampons, ice axe, beacon, shovel, probe, WAG bag, down parka, beanie, Buff, extra gloves and layers, glacier goggles, chapstick… Then, I folded my day-of clothes in a neat stack in the back corner of the truck; piled up my helmet, headlamp, and gloves in another corner; and slapped my skins on my skis.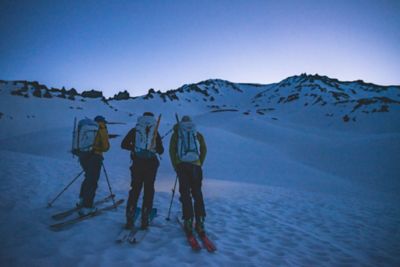 Once all our gear was ready to go, we looked up at the mountain and began planning our climb for the next day. The group agreed that we would go up the classic route called, "Avalanche Gulch," which goes to Helen Lake, past the Heart, the Thumb, and the Red Banks, and up Misery Hill toward the summit. From there, we'd downclimb toward the West Face and ski back to Bunny Flat. Then we started doing the math to figure out what our departure time needed to be. If we needed to get back the trucks by 5pm, we'd want to get to the summit by 1pm… If we wanted to give ourselves plenty of time for a slow climb and lots of breaks, we'd need to leave the parking lot no later than 2am… And if we wanted to have a somewhat peaceful morning before the 7,230' climb, then we'd want to wake up by 1am… Our plan was finalized as the sky had fallen dark, and before we knew it, our watches showed 9pm, giving us only four hours of sleep if we were lucky. We crawled into the backs of our trucks as we said our goodnights and tucked ourselves into our sleeping bags for a night of jittery tossing and turning. And just like that, my phone started chiming, letting us know it was go-time.
Feeling stiff from a restless night and cold from the morning's windchill, I secretly began panicking. I looked up at the still dark mountain, imagining the firm skin track surrounded by frozen suncups, and the nervousness set in. Meanwhile, the guys were basically doing happy dances while they stirred up their instant coffee and took huge bites of hot oatmeal. I tried to keep myself busy by double-checking my gear, stretching out, and checking the weather forecast as I forced some breakfast down for good measure, but whether I was ready or not, it was time to climb.
With bright headlamps strapped around our helmets and loaded packs on our backs, we made our way to the trailhead. We were met with snow immediately, so we clipped into our skis and started skinning. The first two hours were a blur. The snow conditions were just how I had imagined they would be—firm—and made skinning in the dark harder than I could have anticipated.
I called caboose so I could go slow and at my own pace, but the guys seemed to get further ahead every time I looked up. My hip flexors were already causing me pain with each step forward, and the panic I had so desperately tried to suppress was beginning to veer its ugly head, telling me I should turn around before I get too deep—that I was in over my head—that I was going to slow our group down and we wouldn't summit—that I was too weak and out of shape to do this—that I was crazy for thinking I could even get 1,000', let alone get to the summit and back down in a day…
And just like that, I broke down. Tears were streaming down my face, which I took as confirmation of my weakness. I tried to keep my head down, hoping no one wouldn't see, but of course, Devon realized the caboose was about to go off the tracks. (Read: I was losing it…) After talking me back down to reality, reassuring that I wasn't that far behind and reminding me how far I'd come already, I realized I needed to get out of my head and focus on the simple act of putting one foot in front of the other.
I can't tell you what crazy, unidentifiable, energetic force came over me, but mid-afternoon, right on schedule, I was standing on top of the 14,180' summit more or less completely in tact. (We won't go into the details of my malfunctioning ski crampons and the one other silent, tear-filled breakdown, but hey…it wouldn't be an all-day epic if something doesn't go wrong, right?) There wasn't a cloud in the sky and the wind was surprisingly minimal. A morning that had been downright demoralizing turned quite literally into a bright and hopeful afternoon in a matter of minutes once we had made it to our objective safely. We signed the summit book and ate our celebratory snacks, satisfied and relieved all wrapped into one. Feeling like a new person, we started our descent with excitement and optimism.
The perfect sequence of surfy turns that I'd pictured in my head for over 11 hours was finally going to become a reality. We made it to West Face and looked down on an infinite amount of options for fun-filled lines. All four of us were shouting in harmony with each new pitch of spring-like snow, and our smiles could literally be seen from miles away. Our friend's parents, who live in Shasta, had been watching us descend from their front yard through binoculars and even called to congratulate us on a safe summit and epic descent. All felt right in the world. I remember thinking, "This is why I do this."
Well, this story (and day) would have been a lot shorter if the rest of it had continued to be this smooth sailing back to the truck, but we still had a long way to go…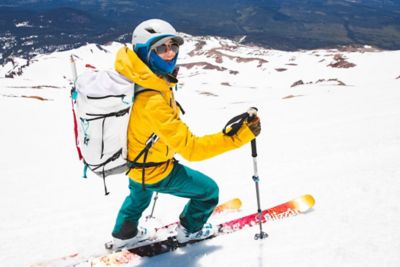 After about an hour of corn skiing, we made it to Hidden Valley. The group agreed that we would traverse on a higher line so we could wrap back around Bunny Flat. I looked back on West Face one last time with a grin stretched ear-to-ear before dropping back in, and it was perhaps one of last smiles on my face before we got to the bottom.
Our glorious corn skiing had turned into a series of sketchy traverses, scrambling on unstable rock piles, bushwacking, slogging through mashed-potato snow and sun cups to Horse Camp. By then, I was completely depleted and on the verge of hitting a wall hard. I drank some of the fresh spring water in a final attempt to re-energize before the final stretch, and by some miracle, an hour later, rounding out a 15-hour day on the mountain, we were back at the truck. We smelled rancid, were sunburnt beyond repair and exhausted beyond belief but simultaneously ecstatic with what we just did.
I constantly find myself karate-chopping at thoughts of doubt in my head, especially when I'm out doing any type of endurance-based activity. That negative inner voice usually won't shut up until my heart rate has dropped back down below 100bpm and/or I've got my feet propped up and a snack in hand. Sure, ski mountaineering requires incredible strength and a cocktail of the right conditions and gear, but I'd argue that the tougher challenge is having to address your ego, pride, fight or flight—whatever you want to call it—and pushing through the temporary discomfort inside your head. Yeah, it was physically challenging to bag Shasta in a day, (then go to work the next day limping and with my tip of my nose so sunburnt that I looked like Rudolph the Red-Nosed Reindeer) but honestly, the reason I'm proud of that day has little to do with the accomplishment itself; it's because in doing so, I raised the threshold of my mental and emotional barriers. And most notably, I surprised myself with what I could pull off in a single day.
Time is a weird thing—most days I feel like I don't have enough of it. But my biggest takeaway when I reflect on this experience is that you can do so much with your time if you're just more intentional with it. Set big goals. Make a plan. Stick to it and hold on for dear life. Looking back, I did all that and still had nine hours left in the day! And if I can climb over 7,000' and ski over 4,000' in 15 hours, it makes going out for the 30-minute lunch run during the workweek feel that much more doable—maybe even the new normal.